Over the course of today I think we praised the weather about a hundred times. The Netherlands and Germany had felt nice coming from our freezing American east coast, yes, but Madrid was actually in the realm of warm. No tights under jeans for these girls.

Setting out from the Airbnb we chose a random direction to wander, and somehow chose the right one to stumble across the palace preparing for their monthly solemn changing of the guard. We watched from across the street, and boy was it impressive. Lengthy though, I think we stayed about forty minutes and we left before it finished. If you're interested, it's the first Wednesday of the month at 12pm. We got out a little late to actually see it from a proper vantage so I'd say make sure to get there at least an hour before that.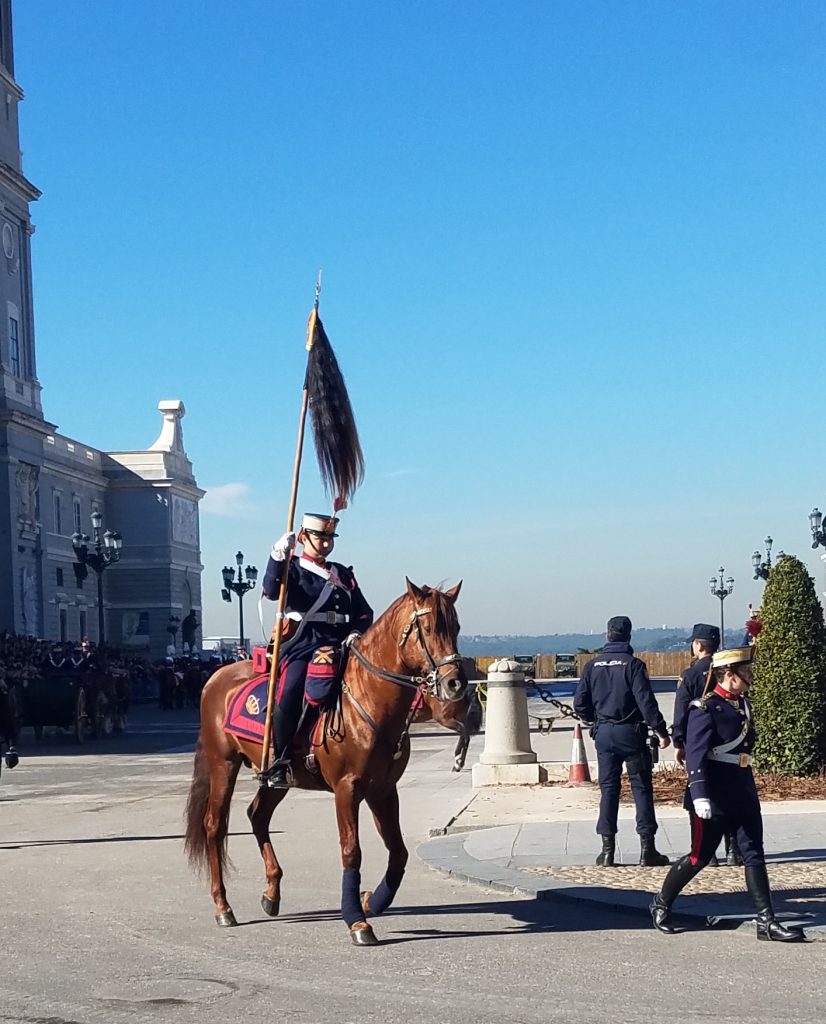 We moved on, wandering with no direction until we accidentally reached the metro stop we used last night to get to the Airbnb. In that square we purchased our first postcards, both determined to remember for once to post them. We moved on, stopping to purchase disposable cameras and to admire several living statues. The sky was clear and the sound of drums strained through the air, enticing us into another square. A group of women was the source of the drumming, a demonstration by an organization devoted to stopping female genital mutilation. On the edges of the square stood people in pop-culture costume; Mickey and Minnie, Chewbacca, Winnie The Pooh…the juxtaposition was slightly jarring.

On our way out of the square we came across the first "pretty" bakery of the trip. The window displays lure you inside, where the smell of sugar overwhelms your senses. This wasn't the last pretty bakery we walked by in Madrid, but it's the only one we stopped in. Gotta make some sacrifices for my bank account and arteries. If you're interested in the pastries we bought, and the food we ate right after, click here.

Sustenance achieved, we headed to the train station because, annoyingly, high-speed trains aren't included in our rail pass. You're given discounts on reserving a seat on high-speed trains, but that's it. Irritating and yet another cost, but we decided it was worth it for the trains to Valencia and Barcelona (without, the journey to Valencia would have been ten hours instead of four, and Valencia to Barcelona would have been six instead of three.) What was most annoying was the fact we had to reserve these trains through the ticket office at the station, when it could easily be an online process. Instead, we had to take a numbered ticket and wait a little over an hour and a half to see someone. If you're interested, the price of reservation depends on which train service it's through. Madrid to Valencia was ten euros each, Valencia to Barcelona was six.


Madrid's main train station is right next to a large park, so we decided to wander through while waiting for six o'clock, when Museo Prado began its two hours of free admission. Unfortunately for us, even in the off-season, the Prado is insanely popular and when we arrived at six, the line to get in stretched around two of its walls. Oh well, next time.