We managed to get up at eleven which was pretty good for the first morning of jet lag, especially with staying up way too late. Tia cooked us a delicious brunch in her mom's kitchen (her mom is wonderful and I someday I want her to meet my mom). Grace got to try the delightful Dutch custom of sprinkles on bread and wondered why America has Pop Tarts when we could have this instead.

Our brief time in Amsterdam came to a close as we made our way to the train station where we activated our Global Eurail Pass. We have twenty-two-day continuous passes, which allow us unlimited travel on trains, busses and ferries within Europe. Next stop: Nijverdal, hometown of my dear friend Wilco. We learn on the first train that we're required to fill our the little journey recording section of our rail pass, otherwise the pass is invalid. You have to fill out the date, time, starting station, ending station, and transportation type (train, bus or ferry), every time you get on a new one. At the end of your journey you have to send this in so the company can process your data, and they'll send you a free gift in return. A little weird, but sure.

Nijverdal is a tiny town built around a textile factory, and it was actually here that the industrial revolution in the Netherlands started. It has a true small-town feel and after the constant business of Amsterdam, it was a soothing stop. Wilco met us at the train station and we went for lunch at a nearby cafe called Lunchroom De Harlekijn.
The Food Bit:
Grace and I ordered the same thing because we hadn't looked at the menu and suddenly the waitress was standing there waiting. My tired brain looked down the Dutch-only menu and picked out a word I knew: brie. What came out wasn't what I expected at all. Half a baguette, open, topped with melted brie, mixed nuts (Brazil nuts, almonds, walnuts, hazelnuts), and pineapple rings with an attractive garnish on the side. It was one of those sandwiches where you're not quite sure how you're going to tackle eating it, so to buy myself some time I ate some of the garnish.

Remember how I said I was tired? Yeah…

The first piece was cucumber, so I popped it into my mouth and started chewing. Hmm, I thought, this cucumber skin is unusually tough. I mentally shrug and kept chewing; maybe I've just never had Dutch cucumber before. Wilco was across from me and Grace was to my left and I vaguely register Grace saying, "huh, I've never had green pineapple before."

I looked down at my plate. There's no pineapple, only cantaloupe. It still took my brain several painful, sluggish moments to catch up and realize that yes, the cucumber skin was unusually tough because it was green pineapple. Oh.
"Oh, do you just eat the skin?" Grace asked me, having realized what was in my mouth.
"Yeah…it's like…cucumber skin," I mumbled back, thanking the stars my makeup was hiding my flaming cheeks. Thankfully the matter was closed and I could die of embarrassment in peace.
Anyhow, the sandwich itself was…interesting. It worked, at least while it was still hot, but I don't think I'd have it again. Perhaps without the nuts, I would. It stretched into two meals though, so that was nice.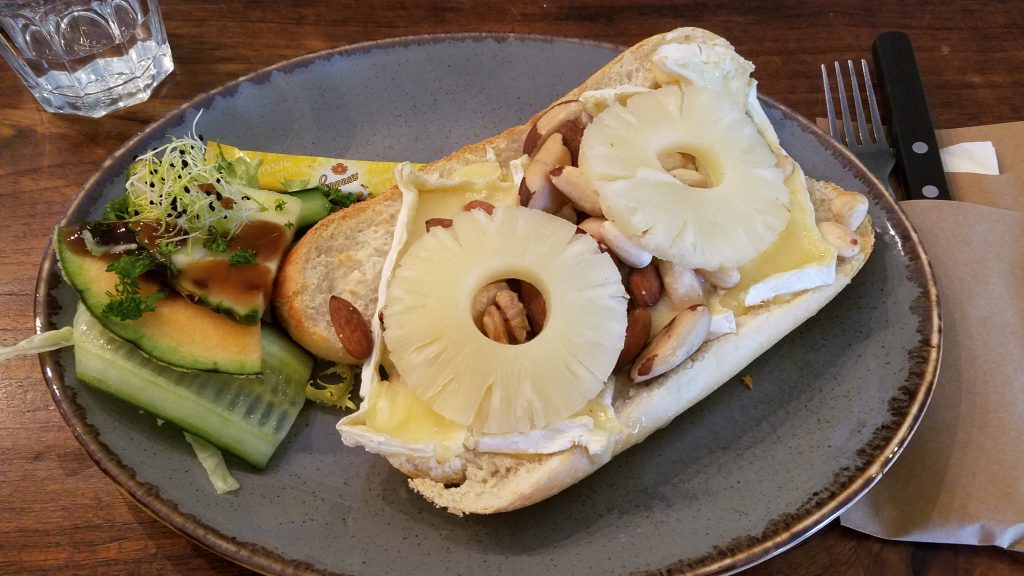 It was wonderful to see Wilco again, and for the first time not in a hospital. He looked great; his decision to stop treatments (they'd stopped working) very much agreed with him. He gave me a copy of the first Harry Potter book in Dutch, something he and I had talked about before when discussing my Dutch language education. Perhaps reading a book I know practically by heart would help the words sink in. Very sweetly, he also gave Grace a Dutch copy of the first Maze Runner book which she loved. In turn, I had knitted him a hat which he immediately put on and looked great on him. He said in his blog post that his mom reinforced it so it'll last longer.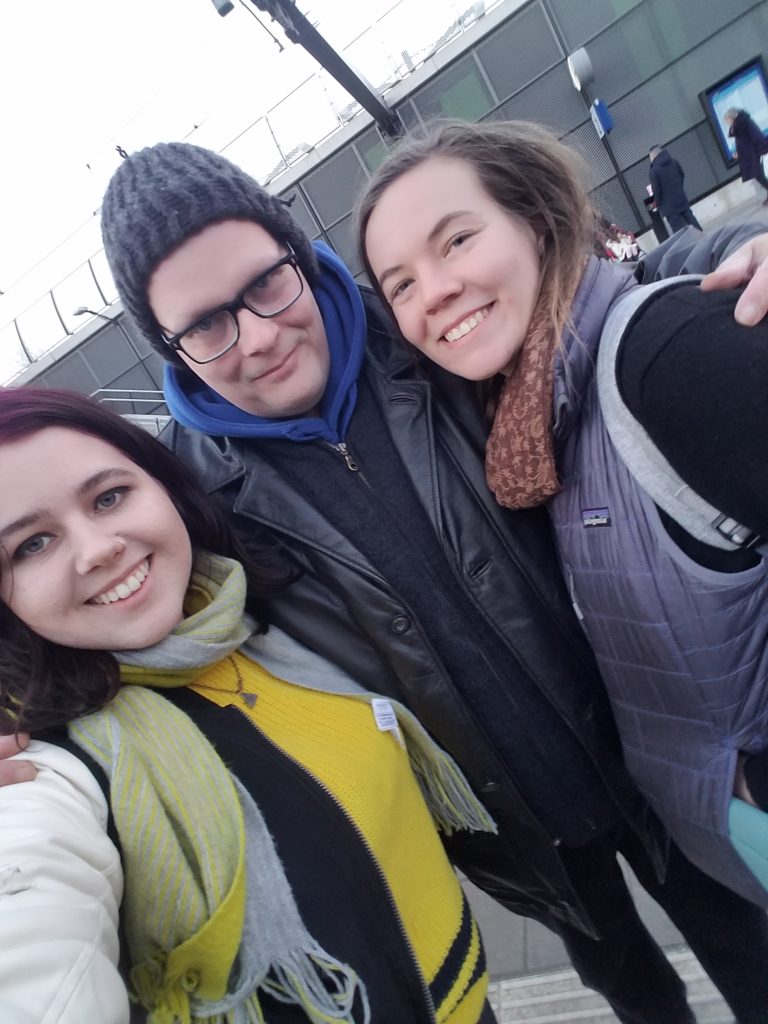 Nijverdal no longer has a hotel, so I found a little apartment in Enschede where we'd have to travel to tomorrow anyway since that's where the train to Dusseldorf goes from. What should normally take half an hour on the train became an hour and a half due to a disruption that forced us to go from Nijverdal to Almelo, get on a bus to Hengelo, then back on the train the remaining distance to Enschede. This meant that by the time we got into the apartment, back home Jake (my wonderful boyfriend) was leaving for work and had no time to Skype. The apartment was tiny and adorable and, naturally, I forgot to take a picture of it. We showered and wrote while Blue Planet played quietly in the background, and remembered to take melatonin at the right time for us to sleep at the right time in another abnormally comfortable bed.

Are the Dutch the mattress masters?