Things you probably shouldn't do when you're in a polar vortex: take an eight-hour bus to New York.

Things we did while in a polar vortex: taking an eight-hour bus to New York. Do you know how many hills and mountains are between Pittsburgh and NYC? The answer is a lot. How well were the roads plowed and salted? I'd rate it about a 2/10, though all the people in ditches we've passed, the semi jackknifed on the other side of the road, and the midsized box truck rolled on its side would perhaps disagree with my assessment.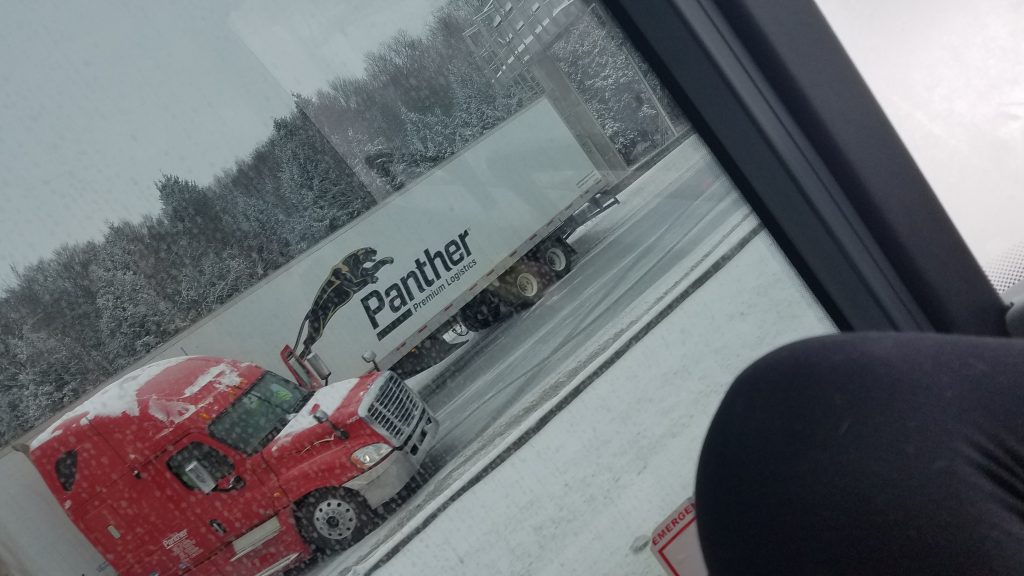 I'd like to thank the Megabus driver for expertly and safely navigating through the shitty roads and getting us to New York in one piece (and also my dad for getting us from Mt. Washington to the Convention Center on some of the worst roads I've seen in Pittsburgh). I would also like to take this moment to shame the Megabus website and updating services that failed to inform me our bus was delayed an hour until we'd already been on the bus for five hours. Oh, and their onboard wifi which gave me dial-up internet flashbacks.

Grace and I were seated in the front row of the top level, which affords you a bit of extra leg room and a unique view I would recommend to anyone who doesn't suffer from motion sickness. For the first ten minutes or so it was vaguely terrifying, like being in a VR driving simulation with no control over the vehicle. We got to see just how bad the roads were and just how great our driver was. The trip did take more like ten hours, but hey, we didn't die.
Once in New York, we were immediately greeted by the usual interesting New York sights, such as a man trying desperately to open a fire hydrant, a man rifling through a trash can directly in front of us, and a man being questioned by three police officers in the LIRR station. Penn Station to Jamaica cost an astonishing $10 each, but once we got to Jamaica we learned a handy little trick for the $5 air train tickets. If you don't already have a MetroCard, you can buy a new one for a dollar and put two fares on one card.

The next ten or so hours weren't all that exciting so I'll quickly sum up the pertinent bits. If you're like me and sometimes make assumptions based on experience, then maybe you too would have missed this weird rule of Norwegian Airlines: you get a free carry-on and personal item, yes, however, both items together must weigh no more than 22lbs, which took me by surprise a whole lot as I've never been on an airline that does this. Unfortunately for me, my backpack weighs a whopping 19lbs (a fact my shoulders have been happy to complain about).
This meant that Norwegian made me pay $100 of my precious budget to check my carry-on. A bit of luck was with us, though, because Grace was also over on her combined weight but the check-in guy was young and cute and thought we were young and cute so let us check just mine and Grace got to keep hers (I like to believe it was also because of my signature "kicked puppy" expression and lucky traveling necklace).

The Food Bit:
The TSA line moved pretty smoothly and once through we realized we hadn't eaten a proper meal since dinner the night before. We ended up at The Local and paid an arm and a leg for sub-par food. (I forgot to take pictures because I was just that hungry.) Grace got the chicken flatbread pizza, I got the chicken baguette, and we got an order of dirty chips (smothered homemade potato chips) to share. Grace's description of her pizza was simply "underwhelming yet kind of satisfying," in that it was food and she was hungry. My baguette could be described in the same way, and the only green on the plate were two sad little pickle slices. I'm not sure if there's a debate on this or not, but personally, I think most sandwiches should have some type of vegetable on them. The chips were dirty in a bad way; drenched in the same barbeque sauce as my sandwich, bits of salty beef brisket, and the teeniest tiniest smidgen of garlic aioli you could imagine. Oh, and they didn't have to-go containers which, in an airport especially, I thought was weird. All-in-all, not great and left me gasping for water.

The plane we were on was shiny and new and had screens on the seat backs and they gave you free water unlike other budget airlines I've used (I'm looking at you, WOW Air), but the only thing I cared about was that Grace and I had a row to ourselves which meant we could both ignore the coveted seat back screens and pass out. Who knew sitting on a bus for ten hours could be so exhausting.